Finished Dead Rising last weekend! Although the game was sometimes frustrating, especially some of the boss (psychopath) fights, beating the game wasn't really as difficult as I had feared. I even got through overtime mode to get the "true ending" on my first playthrough! (I did eventually realize that I should reset the game if I got caught by the military so I wouldn't waste too much time.) I mentioned in an earlier blogpost that maybe finishing the main story would be too difficult if I hadn't played through the game a few times and leveled up a bit first, but Vilhelm said it shouldn't be necessary, which turned out to be true.
 Time for Dead Rising 2?
I think the thing I regretted most about the game was that I always had to make sure I completed the main story cases (missions), so I never actually spent any time just exploring the mall. I started a new game just to walk around the mall a little, but I have other games to play, so I guess I'll probably not play it again much. As for Dead Rising 2, I guess I didn't really like Dead Rising enough to run out and buy the sequel straight away.
I did however buy Batman: Arkham Asylum Game of the Year Edition with TriOviz 3D glasses! I have wanted to buy this game for a long time, but I'm glad I didn't buy it right away, since I could now get this version which has 3D glasses. The 3D effect isn't too overwhelming, but it definitely works! The cheap paper TriOviz 3D glasses that came with the game look just like the regular red and cyan/green glasses that have been around for, what, 20-30 years now? (According to Wikipedia it has been around since 1853! Wow!) The difference is that they have used slightly different colors on the glasses.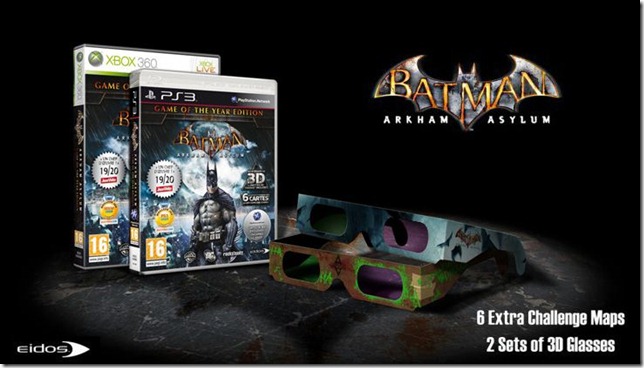 Most noticable is the fact that the color filters on the 3D glasses aren't as dark as normal red-cyan ones, so more colors are let through them. In fact, for the darker colors in the game, it really feels like the 3D glasses doesn't affect the color too badly! But whenever there are any brighter colors in the game, I notice the colored tinting from the glasses. Still, it's definitely better than the old red-cyan 3D glasses, and I could play the game for 2 or so hours without feeling my eyes getting tired. And even though it feels like the colors aren't affected too badly, I guess they probably are a bit more washed out when using the 3D option. So I might want to try the game without 3D. But I will probably play it in 3D as long as I am not tired of it.
I went to my grandfather's funeral last Friday. I wasn't really that close to him though… but I guess it was touching to see my relatives being sad at the funeral. Met lots of relatives, but only managed to talk a little with them. I didn't really talk much with my relatives in Hong Kong on my recent trip either. Kind of wish I could have talked more with my relatives, but I just don't seem to have the energy for it.
On Saturday I went to help move some furniture, my uncle had found some free furniture at Finn.no's free section, and we were going to move those to a lady from church. It turned out one of the couches was too big to fit through her front door, so I got that couch instead. It's quite comfy! And it replaced the not-really-a-couch-but-actually-a-bed-couch we had in the living room before, so it's a nice improvement.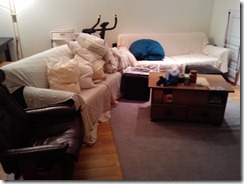 I also preorded Dead Space 2 (PC version), which is actually the game I've been looking forward to the most! When ordering that I also ordered Dead Space Extraction (Wii game), since I figured that if I really want to call myself a fan of the series, I might as well buy that game too.
…yeah, I never learn. Even though I say I want to finish my games, I keep buying new ones. Well I do feel like I've been finishing games on a good pace lately, so it might not be so bad. My hope for this year is that by the end of the year, I will at least have finished all the games I bought before 2011! Oh yeah! Not counting iPad games, probably. I bought a bunch of iPad games when they were on XMas sale. Only 6 NOK (0.99 USD), how could I resist! But my iPad will probably be neglected as a gaming machine as soon as the 3DS is out.