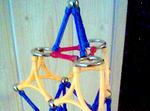 My second design with my magnetic sticks.
I bought a cheap no brand magnet sticks building set in Glasgow, and although I think the magnets may be a bit weaker than those from well-known brands (GeoMag, Magnetix), it's still interesting to try different ways to build a stable tower with it. For your information, the set I bought costed almost just 1/10 of the price of a set with the same amount of pieces from GeoMag!
As mentioned in the intro, this is the second tower I made with the set. The first design, which I didn't take a picture of, was an somewhat "Eiffel-tower"-style of tower, where the base is largest, and it shrinks towards the top. This one is a bit more original, although I guess it doesn't really look all that nice on the picture… But it's quite stable, at least!
I kind of wish I'd bought more sets, building the tower on the picture already used up all the sticks in the set I bought! There's still a lot of metallic marbles and plates left though, maybe I can use those for other stuff.