I was in Gothenburg on 7th – 8th of February, met a few friends and played games with them. Also had some gymming, apparently all of us are are lazy bums who can't even run for 5 minutes without needing a break. Should've taken a photo of us lying on the floor! Anyway, photos: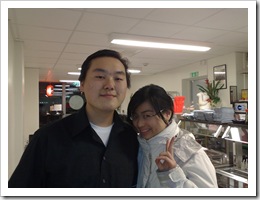 Met with Connie, been quite a while since last time… Right now she is in Japan now with her boyfriend! Lucky people. I wanted to go to Japan too. Stupid passport rule. 🙁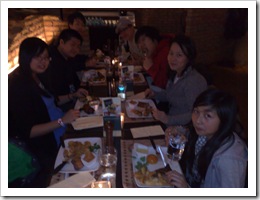 Eating at Jensen's Bøfhus. I had "flankstek" or something. It was kinda sour, not sure why, didn't really expect that. But it tasted okay enough, and was a bit cheaper, which I used as an excuse to also pay for the soft ice cream buffet, which wasn't really that cheap. But I had 5 glasses of soft ice cream with various toppings, so I probably can't complain, even though the glass was kinda small.
Spent almost the whole last week on trying to fix my uncle's computer, in the end I ended up wiping it and reinstalling Windows. (After backuping his data of course.) It kinda works now, but I'm still not sure if the hard drive is quite okay, since Windows still has some weird issues. Well, as long as it doesn't break down, it should be okay. I guess.
Oh, after I used my external hard drive to backup his files and copying them back, the power adapter stopped working. It's a weird proprietary power adapter too, so I can't just replace it with any common power adapter. Their support said they'll send me a replacement for free, but they're out of stock, so it won't be sent before March. I guess it's a pretty common problem… Maybe next time I'll just buy a mini HD without power adapter. *sigh*
Didn't do anything special for Valentine's day besides going to my uncle's house to finish up some stuff on his computer, and playing computer games when I got back home. My family went to visit some family friends on the day afterwards though, so I played some Wii games and card games with the kids. Also watched most of Alvin and the Chipmunks, although the movie was so cliched and predictable so I didn't bother watching the end, and went to play some Wii instead. Misin, Minh Thu and Vilhelm came and joined after a while.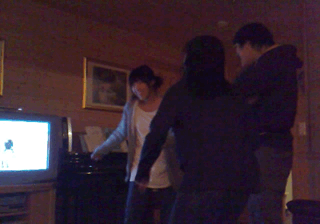 Dancing is fun!
Oh, I also tried making different ice cream types. First I made apple ice cream, which was okay. Then wasabi ice cream, which was just so-so, but still edible. Lastly I made a triple layer chocolate ice cream cake, but I think I messed up the amount of various ingredients, so it's kind of bitter and might be too sweet, and there might be too much margarine in the semi-Digestive-cheesecakelike-bottom layer etc. (Because I did look briefly at some recipes on the internet, but since I hadn't prepared all the ingredients beforehand, I just randomly grabbed whatever I had at home.) That's just from tasting the mix though, so it might taste better when I actually eat it. Time will show!