I'm finally done with the exams! I've been in Oslo the last two days, but me and the family is going to Hong Kong tomorrow!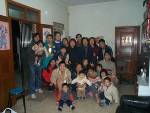 I'm looking forward to eating and shopping! Actually, I believe this is almost the first time I'll actually care about shopping, since most of the times before I didn't really like shopping much. I was almost only interested in the eating part. And playing too, of course. But this year, I've actually made a small shopping list: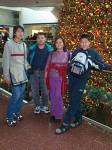 Nintendo DS + games to self
Mawaru Wario Ware to self
Steam tray/kettle to self
Bo bang tong/candy for Jennifer Li
Spicy beef jerky/octopus for Anna
Something for Wendy
Snoopy for Jenny Lam
Curry to self
Waterholder for ricecooker to self
Small gifts for cousins?
Kirby to self!
Anime towel for self/others?
Anime t-shirts/clothes for self/other?
Anime posters for self?
Books for self? (Terry Pratchett)
According to Katherine (Stockholm), her shopping list is too long to even mention, but she has all of it in her head. Haven't asked the others who're going (I think it was Louise, Ricky and Kayin, and maybe Sarah…?) Anyway, I think mine is not that long, especially since all the last entries are just things I randomly added just to make the list longer. I probably won't even buy those things, unless I find a really good deal.
Anyway, for those who didn't get my e-mail, I've made a Christmas card here! Go and see! And if I get internet connection in Hong Kong, I may update this site, but probably not, so, merry Christmas to you all!