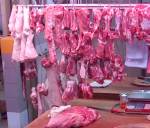 Meat, meat, everywhere the eye can see!
This meat market in Sheung Shui is quite remarkable. Of course, there are normal supermarkets with normal plastic packaged meat too, but when I'm in Hong Kong, my grandmother always buys food in a building dedicated for food sales booths like the one in the picture. There was one floor for meat and fish, and one floor for vegetables, fruits and some other stuff.
Some interesting things I've seen in that place is a fish that was wriggling after being cut in half, a cow's head, and dried food from things that I didn't really recognize.