Been busy the last few weeks, partly because I've been travelling the whole Easter week, but also because I've been buying an apartment and then moving in! I'm posting this from my new apartment now (thankfully I got to borrow my mother's "wireless broadband" adapter).
The weeks before Easter I was looking at apartments with my mother, who for some reason seemed overly eager to help me get an apartment. She'd been looking up apartments on the net, printing out a bunch and giving them to me. We went to look at a dozen or so of the apartments, some near where I live now and some closer to my current workplace. Eventually I found that most of the apartments in the town centre were quite old, and most of them had some quirks, like tiny bathrooms, the cooking stove being placed on the complete opposite side of the kitchen from the kitchen tables, noisy surroundings, etc. One of the apartments was so old that it didn't have a proper bathroom, but it had a toilet, and then a shower hidden inside what looked like a closet!
Anyways, I bid on a newer apartment on Skøyen, but ended up in a bidding war that I eventually gave up on. Then I bid on another apartment (also on Skøyen) which nobody else bid on, so I got it for a bit under the suggested price. Kind of nice! It also cost a lot less than what the other apartment eventually ended up on, so I'm pretty happy how things turned out. Maybe God didn't want me to get that other apartment? It was slightly bigger and a few years newer, so it was probably a "better buy" so to say… But the one I got is quite new too. It's also quite close to public transport, even a train station! So I think it'll be nice.
After that came the superbusy Easter week. First, Friday to Sunday, the youth group had a sleepover at Yibo's house, where we were mostly playing games and eating with other youth. I didn't take any good photos, but here's one with us making wonton! They turned out quite delicious. But I think we spent over 3 hours making them. 😛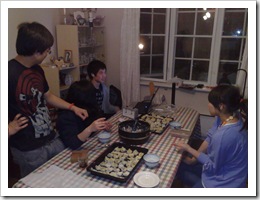 On Sunday everyone went to church from the sleepover, and then my family went to Stockholm to visit my uncle and his family, including my two mini cousins. We had some family dinners, went to a quite okay Indian restaurant, ate at McDonald's in Heron City and played bowling there, and celebrated one of my cousins' birthday. Ate a lot of food during this trip…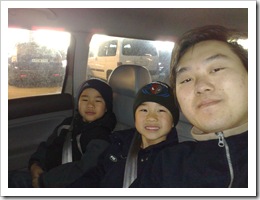 Then my parents drove me and my brother down to Halmstad for the Easter camp. It was nice, met lots of old friends and a couple of new ones. Trygve spoke about "How to be a prayer warrior", and I went to both of Billy's workshops, it was quite good. I'll have to try to pray more through every day, and not just for devotions and meals…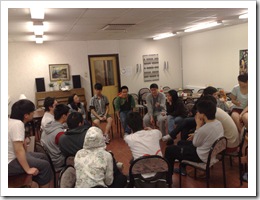 After I got back from my Easter vacation, I think I gained 3kgs… Need to do more exercise, but I've been busy moving. I got the keys for my new apartment April 15th, and have been moving stuff over the last few days. Now I've got most of my stuff moved, although not quite unpacked yet. Below is a photo of my bedroom before I started unpacking there.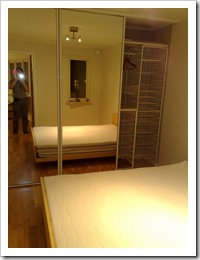 Oh yeah, I bought a bed on Wednesday/Thursday. It's two days because on Wednesday I bought a large, hmm, "rammemadrass", but it was too big for both the elevator and the staircase, so I just had to change it. IKEA just gave my money back without any questions, and I ended up buying this bed because it was on sale. (395NOK.) The total cost for my bed ended up being a bit under 4000NOK, which is somewhat cheaper than the beds I saw at non-IKEA furniture stores. But it remains to be seen if it's comfortable enough… Well IKEA has a 90 days "comfort" warranty, so in the worst case I can always change the mattresses for another one.
Egh, I always end up writing too much text, I think I'll end this post now. Should be going to bed too. But anyways, for more photos from Easter camp and from my apartment, feel free to check out my profile on Facebook. I'll add more photos of my apartment soon!