Last weekend I decided I wanted to beat Wind Waker no matter what. I just barely managed to do it on Sunday night, even though I decided to ignore the rest of the sidequests. By now I'm rather convinced it must be some sort of bug. Those times when I could get treasures, it seems that I could hit it even if I was off-target, but sometimes it would be impossible to hit the treasure no matter how close I was to it.
Enough about treasures. The ending was all right, and actually I almost felt bad for Ganondorf for the pitiful face he was making while explaining why he wanted to destroy the world. And he got stabbed in the face with a longsword! That's gotta hurt. I can't believe this is a game for kids.
Three weeks since I updated my blog huh. Well I'll try and summarize some of the stuff I've been doing.
For Stella's birthday I made an attempt on layered cheesecake. Just followed the standard recipe, but mixed half of the filling with chocolate (powder). I tried to wait untill each layer stiffened before adding the next layer, but that was too tedious and probably unnecessary. I also forgot to use less water in the jelly, which is the reason why it's so thick. But it was not necessarily a bad thing, it didn't fall apart when cutting the cake as I feared it might.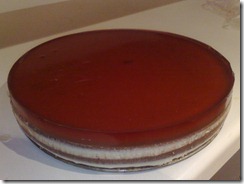 We also went out to eat on her birthday, went to a tapas restaurant, I think it was San Leandro. The place was interestingly different, with tall tables and chairs giving a bar-like feeling. The food however didn't really feel that special. At least it didn't feel like it was worth the rather stiff price. (I think we paid 250 NOK per person.) I prefer heartier meals for that price, like a steak or so. At least we got a big plate of fried (or baked?) potatoes though.
4th – 7th November I went to Stockholm to visit Yann again and to go to Gamex. Only went there one day, it was fun but too small to be worth going more days, unless you actually want to spend lots of time playing the demo games. I tried out Kirby: Epic Yarn, which was more difficult than I thought (read: I sucked). But it looked quite nice, I liked the various effects that made the clotheslike background really look like it's made of cloth! I will probably buy this game even if it might be short. Other than that, there weren't really that many games there that I truly looked forward to. Oh, I did buy a wallet. It looked cool and seemed to be quite good quality, so I bought it even though it wasn't exactly cheap (200 SEK).
I also had a dinner with my relatives in Stockholm, since I helped them buy an unlocked iPhone 4 from Norway. They made "bibimbap", a Korean dish/meal. Never heard that name or tried Korean food besides Korean barbeque before. It's basically a bunch of mostly cold prepared vegetables and sliced meat, but they added some other cooked meat to make a fuller meal. It was good in any case, I got quite full!
Last weekend most of the youth went to Gothenburg to participate in a missions/evangelization training "camp". I decided not to go, honestly because I didn't really want to talk to people much. I don't mind talking with people once in a while, but since the whole focus of this camp was on talking with people and sharing the gospel, I didn't feel like going. It's too bad, I would've liked going to Gothenburg to visit friends again…
Instead I stayed at home and spent almost all the weekend playing and eventually finishing Wind Waker. Which I wrote about at the beginning of this blogpost. Next up is probably Dead Rising! But I will need to take some time to clean my house and plan the food for my birthday party this Saturday.