Went to Sjöbo (near Malmö in Sweden) last weekend, and to Bergen the weekend before that, to visit friends.
Bergen was nice, even though two of the people I was hoping to see in Bergen were working so I didn't even get to see them. But met Hanfeng and Ivy, it was cozy walking around town with them I guess. And it was actually sunny that day, even though it is almost always raining in Bergen! In the evening we went to Ivy's place and ended up just watching videos and eating a late dinner.
My father was driving to Bergen on Friday, it took 8 hours or so to get to Norheimsund where we stayed with some friends of my parents. It was a quiet place, but very beautiful! We left for Bergen on Saturday and stayed there most of Saturday before going back to Norheimsund to stay the night before leaving for Oslo on Sunday. Because Norheimsund is slightly closer to Oslo than Bergen, this saves some time, but still I think I'd prefer taking a flight next time I want to visit anyone in Bergen!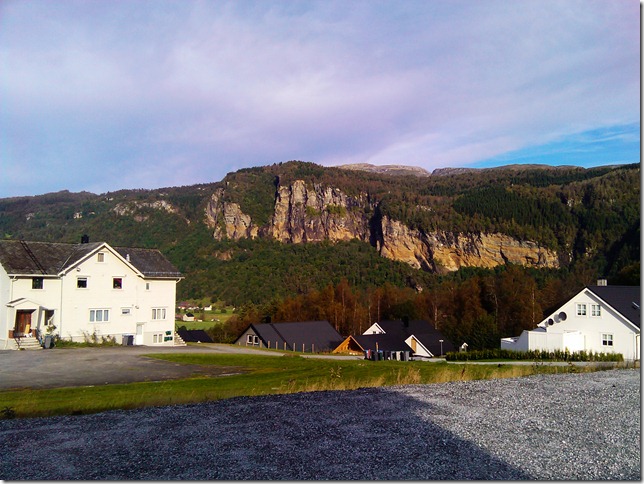 On my way to Sjöbo I stayed at Tizian's place in Malmö. Don't remember if I've stayed there once or twice before, but it's been a while since last time! We left for Sjöbo on Saturday, to go to a party to say goodbye to Anna and Alexiz who were going to Japan to study. Even though I only met them once before, they were pretty fun to talk with, so I ended up going to their party to say goodbye! Unfortunately I left early because I had promised to go to MegaZone on Sunday, but it was fun while it lasted.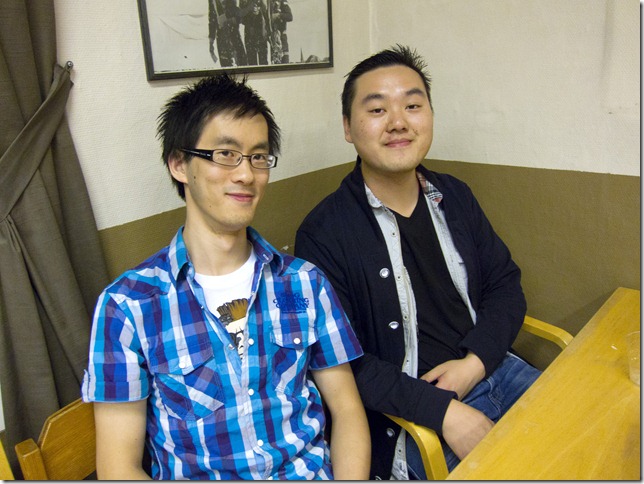 After taking the night bus back to Oslo I went home and slept before going to church with my brothers. After church we went to MegaZone (a place where you can play laser tag, kind of like LaserDome. They also have some other games like paintball). We played one round of laser tag, then tried out "GladiatorZ", which is some kind of activity center with a mechanical bull, an obstacle course, sumo suit wrestling and "giant Q-Tips" battle (I tried to find out what it's actually called in English, but couldn't find it).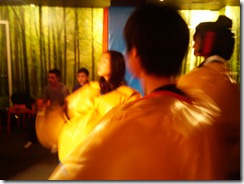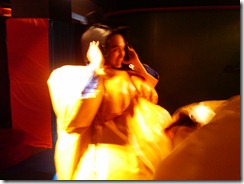 My phone camera is so bad.
After MegaZone we ate at a Vietnamese restaurant. I had fried banana with ice cream for dessert. It was delicious!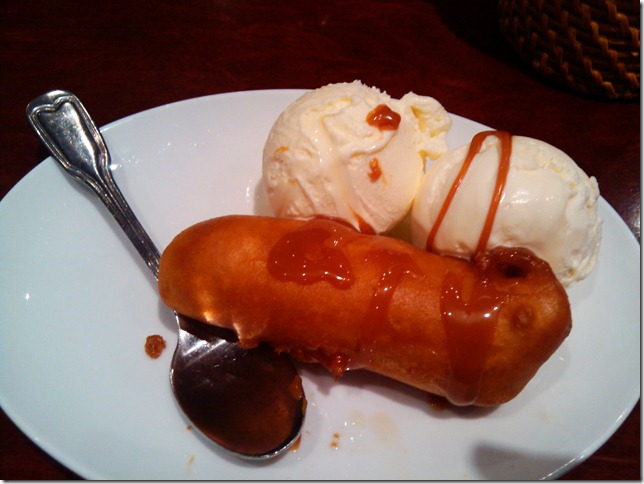 Also I finally managed to find all the Gold Skulltulas and heart pieces in Zelda Ocarina of Time Master's Quest, using a FAQ to find the rest of them because I had gotten so tired of running around the map multiple times. It's kinda annoying how obvious some of the locations I missed were! Oh well, after that I started playing the first Legend of Zelda (the NES one) on the 3DS. It was as difficult as I recalled it to be, but after playing it a while I seem to have somewhat gotten the hang of it. I think I'm on the level-6 dungeon now, the one with the Wizzrobes.
Looking forward to Kirby Mass Attack's release in Europe! Also Batman: Arkham City.