This month I've spent a lot more time eating dinner with friends than usual! (Besides the dinner we have on our bible studies every week.)
Monday 3 weeks ago I went with some friends* to eat at the Italian restaurant Brunello near Oslo City. I ordered a Tagliatelle al pollo, which tasted quite good! And I got surprisingly full from it, possibly because it had lots of olive oil in it.
Then on the Friday after that I went with some other friends* to New Anarkali, an Indian restaurant. The medium+ strong Lamb Vindaloo and Keema Nan (nan bread with minced lamb meat) that I had for the main course was good! But the lemon drink (forgot the name) and the Kulfa (homemade Indian ice cream) was not quite to my liking. I think I'll go for something safer for drink and dessert the next time I go to an Indian restaurant.
Thursday after that I invited some friends* that I hadn't seen in a while to my house for dinner, and tried to make a steak, although I ended up overcooking it. It went better last time I made a steak since it was in the weekend and I was at home all day, so I could time my cooking better… Well it was nice seeing them and talking with them a little bit.
Then last weekend I had hotpot at a friend's birthday party at our house, then steak at another friend's housewarming party, and sausages and sushi on Sunday before going to the movies with A.L.I.V.E.. We ended up watching Drive, which was quite a bit more violent than we expected. Next time I should research the movies more before picking them.
Oh and tomorrow I'm going to Chinese restaurant Dinner with some friends*. I think I've been there before with some relatives, but it'll be the first time there with friends in any case.
* Names intentionally left out in case some of them don't like having their schedule posted out in public.
I didn't take any photos from the dinners, so I'll just, hmm, post this photo of my Batman pumpkin! The first pumpkin I've ever carved. Batman's logo seemed to be an easy shape to make for a "beginner", and I also made it kind of as a celebration of Arkham City's release. Unfortunately my copy of the game has been delayed in the snailmail, so I haven't gotten to play it yet…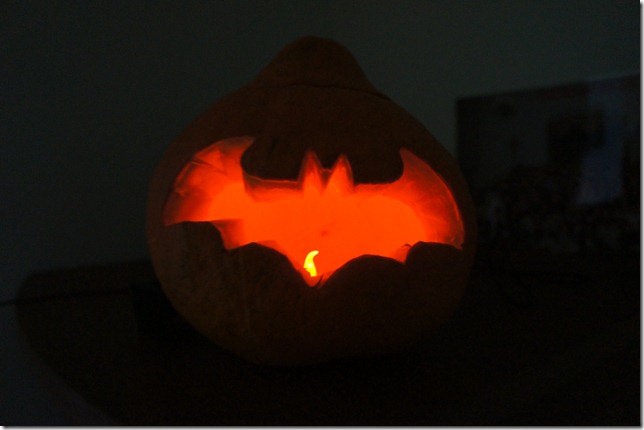 Been playing a bit of Prince of Persia: Two Thrones instead, which I got of a Prince of Persia full pack sale on Steam some while ago. In this game I can also do silent takedowns and run on rooftops! So it's almost like Arkham City! Except not as awesome. Still I guess the game isn't as bad as I was afraid it might be, since most reviews I read before said that Warrior Within and Two Thrones aren't as good as Sands of Time. I played the second game on the iPad BTW, which I regret slightly since it seems like the "true ending" was not possible to get in the iPad version. I just looked that ending up on YouTube in any case.
Got my second Sluggy Freelance Megatome in the mail today, yay! Got it used at Amazon, cheaper than the first one that I got at the actual Sluggy store. I did want to buy from the Sluggy store, to support the webcomic, but apparently they were all sold out of this book. Maybe I'll consider buying some merchandise, but I try not to buy too much decorative stuff now since it just takes up space. I prefer things that I'm actually going to use for anything! Like reading.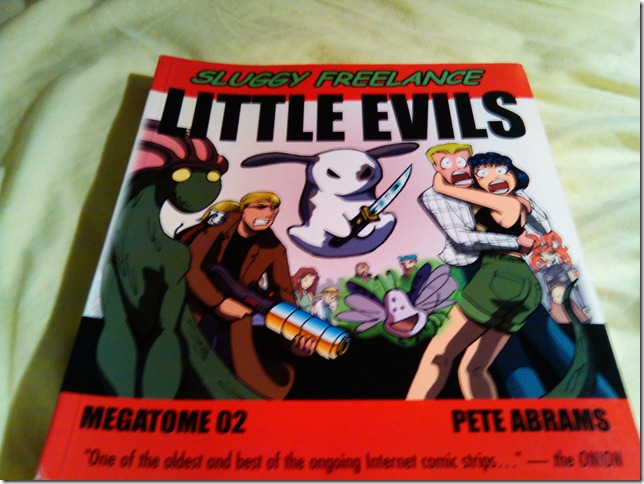 Anyways, I really hope I'll get the Batman game soon… Have been looking forward to playing it. *sigh*