I visited Yann and Gabriel in Stockholm in the beginning of November. Went to Gamex and tried out a bunch of games, was happy to try Skyward Sword and Super Mario 3D Land! Also Kirby's Return to Dreamland, and various other games. Also we got to listen to a preview of the Gamer's X-mas concert, lots of great video game music! Almost considered going to their concert the next weekend, but I was kinda tired of travelling by then, needed a break.


I didn't bother to try Batman: Arkham City since I was expecting to get it soon…
I've moved back to my old apartment now, missed living by myself! It's great! And I got a copy of Batman: Arkham City shortly after moving, which kept me entertained for many evenings untill I got Zelda: Skyward Sword. Can finally play all evening without worrying about disturbing my brother's homework. And the apartment doesn't get messy shortly after I've cleaned it.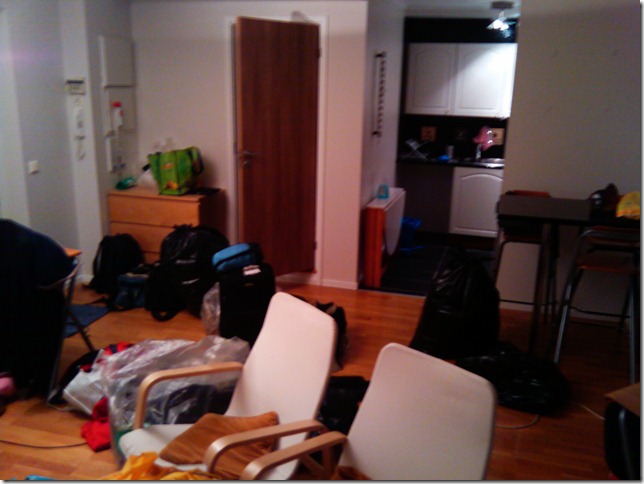 Although it took some time before it was cleaned up after moving.
I bought the Collector's Edition of both games (Batman and Zelda), but according to Spaceworld they hadn't gotten the shipment of Batman: Arkham City Collector's Edition before now. So it's on its way in the mail. But the webshop sent me a normal edition copy of Batman for me to borrow and also sent me a bunch of promotional stuff to compensate, quite good service! Unfortunately I've read online that there seems to be a bug in the XBox 360 version of Batman, where the savefile would randomly stop working, so I'm a bit too worried to keep playing the game now. But since I got Skyward Sword I've been playing that instead.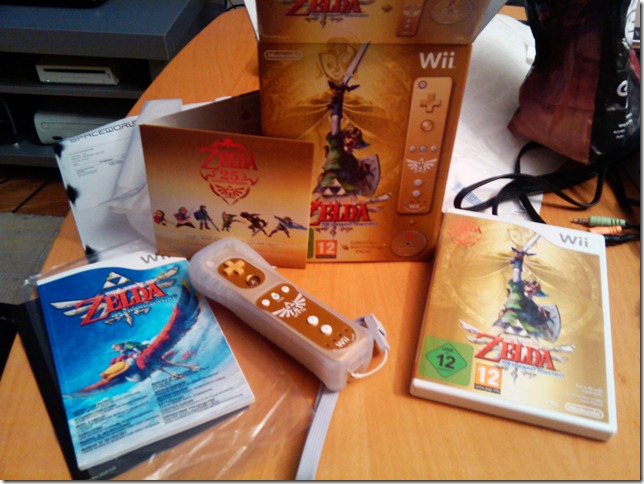 So, those two games plus the moving and unpacking and cleaning are the biggest reasons why it's been more than a month since I updated. Though I did have some other activities too last month besides going to Stockholm.
For one it was my birthday, which I didn't really celebrate much this year, just had a dinner and cake with my family. It was nice! Didn't get so many gifts, but as you can see I already bought lots of stuff for myself so I'm happy. My parents gave me lots of stuff for the apartment too: a bigger bedquilt, new shower curtains and some furniture. Tina bought me a wooden cutting board, I try to cut down on plastic kitchen utensils now.
We had a party game and dinner day at church and also a sleepover weekend with A.L.I.V.E. at a church member's house. Made cupcakes, played games and had fun together.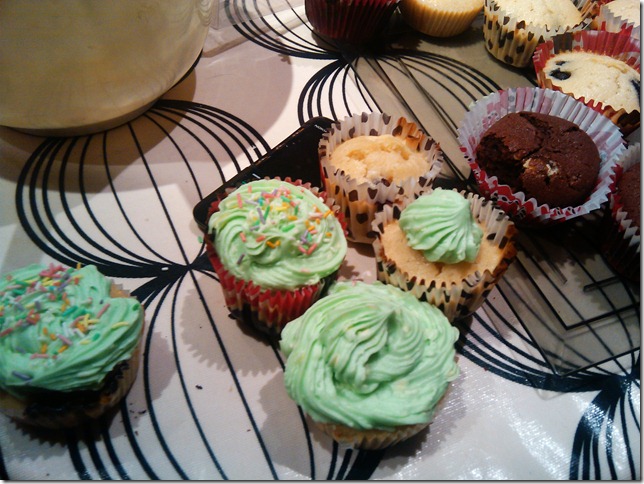 Buttercream topping was a bit too much for most of the A.L.I.V.E. members. Basically 100% margarine with some powdered/confectioner's sugar and food coloring.
And I went to the Mission Training Weekend in Gothenburg, where we had some training on how to share our testimony with people. Met a lot of friends, ate the sushi buffet at Haiku Sushi (again). I think the consensus amongst my friends is that the sushi there is "all right", though not necessarily that impressive. The buffet is quite cheap in any case (in my opinion), costs almost the same as buying a medium sushi meal in Norway.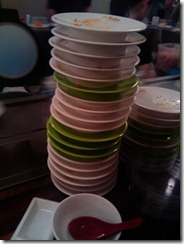 These aren't all mine.
I think I'll go play a bit more Skyward Sword before going to bed now. It's is an amazing game, every time I play I have a hard time putting it down! Hmm so it's probably a bad idea to start playing now. Oh well, it's weekend. It'll be fine. Probably.