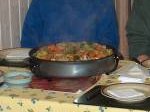 I only took one picture when my family visited me and Leon.
Hah, I didn't take a picture of just the food! How could you think something like that! I'm not in the photo though, since we wanted to start eating, so I didn't bother to try and use the timer function on the camera.
Except for eating, we also went to a rotating restaurant! Well, we still ate there, but it was at least rotating! The rotating restaurant is located near the top of a tower (I think it's a TV tower, or something…), and the floor rotates, so you can see all the view from one dinner table, without having to move it around in the restaurant by yourself!
We also visited Nidarosdomen, which is an old stone church in Norway. And we went around shopping in Trondheim city, although all I can remember us buying was food.
It was a nice time, and it felt like a vacation, since I didn't do any school work while they were here.