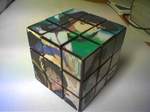 I made this in June 2003! Neat or what?
The other sides of the cube: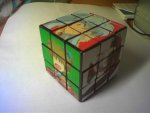 I basically used an old Rubik's cube I had lying at home. Some stickers were missing, and some were loose. (The cause for this was that when I was young, either moving the stickers around or taking the cube apart to put it together was the only way I knew to get the pieces into the right places.)
I removed all the old stickers from the cube, then I found some nice images on the net, with as different color backgrounds as possible, and printed them out on sticker label sheets (usually used for printing addresses for sticking on envelopes). It takes some work to get the size right, too… After that, I just cut the labels up and sticked them to the cube.
Some things to be aware of:
If you want to try the same: Make sure the images are printed out correctly, before you actually use colors or label sheets. Test it with black/white and normal paper first.
The colors may come off when you use the cube, depending on the quality of the printer, ink and labels that you use. My cube is still looking somewhat okay, but I haven't really used it much, and I've noticed my fingers getting some ink on it after each use. Don't use it when your hands are very sweaty…
It's somewhat harder to solve a cube with images than with just blank colors, since the centre piece has to be rotated correctly!