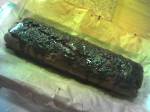 This cake was made from a recipe Anna gave me! She called it "Kladdkaka", though. The photo is from February, haven't made it lately.
Anyhow, the recipe is:
2 eggs
2 dl sugar
2,5 dl flour
2 tablespoons cocoa (powder)
200g butter
Mix the eggs and sugar to eggnog (takes quite a while, use a mixer and let it stand for an hour or so). It's finished when the sugar isn't crunchy when you taste the eggnog mix. (Although I've never been patient enough to let it mix for so long.)
Add the flour and cocoa through a sieve so there won't be any clumps, while mixing by hand. Also melt the butter and add it in the mix.
Pour the cake mix into some kind of cake form. I used a long form covered with baking paper, but you can use a normal round cake form too. Bake for about 30 minutes with 175°C heat on the center row.
Anna said the cake was to be baked for 5-7 minutes on 250°C, but my cake got burned, and when I looked up the recipe on internet, it said 175°C. I guess you could still try it if you don't have time to let it bake for 30 minutes…
Anna also said that this cake doesn't need icing, but as you can see from the photo, I did add icing on my cake. It's mostly because the cake got burned though, so I wanted to put something on top to cover it a little.
In any case, the recipe for the icing I made was roughly:
1 tsp cocoa
1 cup sugar
2 tsp water
I just melted the sugar in the water and added cocoa. However, this icing isn't recommended, I just used it because I didn't have icing sugar. Most likely you won't need icing at all though, so just use this in case of emergency.