Hmm, the title part of the song isn't before the end of the video. Oh well. But whenever I think of the word "cruise", I always think of this song. I got the phrase stuck in my head because it's such a weird Engrish sentence…
But anyways, last week was mostly spent on a cruise with my family! We travelled with the Royal Caribbean International's Vision of the Seas (those links are in Norwegian, here's the English description of the boat, and their English website). Vision of the Seas is one of their older ships, and didn't quite have as many facilities as I was expecting, although it still had an okay amount of entertainment.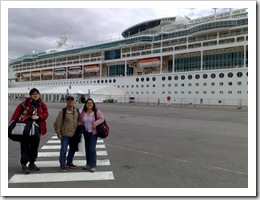 When boarding the ship, we could leave the luggage at the entrance, and they would have people ship them to our room. Kind of like a hotel, where the piccolo helps you carry your luggage to your room. I guess it's clever, since it means we don't have to worry about a lot of people boarding the ship while dragging big luggages around, making it crowded. Actually, the ship never felt crowded, part of the reason being that people had to go through some sort of security control before entering the ship, meaning that only a few people entered the ship at a time. And part of the reason being that the ship was, well, big enough for the passengers I guess.
My family (mother, father, brother and me) had a junior suite, with a double bed and a bed sofa. The stateroom attendant would prepare the sofabed every night, and put it back to "sofa mode" when we went to breakfast in the morning. Very servicy! They even put folded towel animals on our bed the last few nights. Of course, they expect people to tip, almost like they depend on it for their payment. (Last night even had a video about how you should tip, with suggested amounts.) But I understand that it's normal for the US service industry? Oh well.
Each meal was included in the cruise ticket, or rather, the whole cruise was basically an all-you-can-eat buffet, where you could eat as often as you liked, as long as some restaurant is open. The swimming pool had fast-food like pizza, burgers and fries the whole afternoon and evening. And there was an ice cream machine on the outside deck of the ship, where you could eat as much as you wanted in the afternoon/evening. I already got quite full just from the breakfast, lunch and dinner buffets though, so I didn't really eat much between meals.
Most of the time aboard was spent swimming, watching the night show (also free) and playing cards and other games. (I played Carcassonne and San Juan with Vilhelm.) I didn't take any pictures of the pools because I didn't want to bring my mobile phone with me when I was swimming, and it felt awkward taking photos when I was not swimming. Anyways, the pools were rather small, the inside pool only had space for two or three people swimming side by side at the same time. But as long as I went a bit early in the morning, there weren't too many people. I also sat in the bubbly hot tubs (bacterias notwithstanding), steam bath and sauna for a bit. It was quite nice! I never got around to try the outdoor pool, partly because of the cold wind, but also because there were usually a lot more people there. I'm sure the water was heated anyway, so I guess it's ok even if it's cold… Too bad it was closed the one morning I wanted to try it before there were more people there. 🙁
The shows were all right, they had two dance shows, one magic show and one humor/acrobatics show. One dance show was called "Boogie Wonderland" and had "old" music. The other one was called "Rhytm and Rhyme" and had music from Broadway shows. The magic show was held by John Taylor, who is supposedly Australia's premier illusionist. Too bad he shares a name with many other famous people, I couldn't even find an article on him on Wikipedia! Maybe he should've gone for a flashy artist name, like David Copperfield. Also most of the tricks seemed somewhat old, but I guess it's limited how many tricks he can choose when performing on a somewhat limited stage in a boat…
Last night had a "Farewell show" with an spinning plates and ladder climbing acrobatics show with Flash and Fever, some kind of entertainment troupe from Netherlands…? The website is pretty basic and very Web 1.0 (under construction?? Haven't seen that in ages!), but their show was quite fun and entertaining enough, I guess. Then there was a final dance show, before representants from the whole crew came onstage to greet us goodbye.
We were in Hamburg for about a day, but since it was the Ascension day, almost everything was closed… so we just went around in a tour bus most of the day. Dim sum was kind of nice though, even though we already ate so much on the boat. There was also a street market, so at least there were some things to watch! Oh, also, on our way back, we got caught in a heavy rain/hailstorm! There was so much rain and wind that I got my pants soaked even though I used an umbrella…
Ick, I always write way too much in my posts… To short it down, I'll finish with a wishlist:
Bigger pool would've been nice, so it doesn't feel as crowded
Should try the outdoor pool/whirlpool at least once!
Bigger shops! I wanted to buy candy. (They only had a small shop with Royal Caribbean merchandise, liquor and jewelry) 🙁
It'd also be more interesting/(shopping) if the destination city isn't on a public holiday when we arrive
The feature list said minigolf, but there was none! But honestly, I have no idea how you're supposed to play minigolf on a rocking boat.
Oh, by the way, I bought an XBox 360.