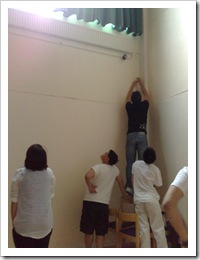 Went to prep camp last week, to prepare for the summer camp. Had some planning for the tech team (I'm not in charge this year, Jenny and Willy are in charge instead. But I'm in charge of the bookselling.) Also listened to some of the teachings for the group leaders, since the tech team doesn't really have any own teachings or anything.
Also, it was pretty hot in the Malmö church, I think they said they turned off the A/C since it was summer vacation…? We were sweating every time we sat in the dining area (with all the big windows and the sun shining through them). We tried to pull the curtains in the meeting hall at least, but even Leon needed two levels of chairs to reach the curtain line.
Anyway, besides teaching and planning we also had prayer and worship, it was nice! Many new songs too. I really feel that I need to focus more on God during camp, I tend to just focus on tasks (and people) rather than God… This year the leaders will have to do their own devotions, instead of having "leader devotion". I guess it could mean that I can get up later, but I'll have to try and keep having devotions. Very often I skip devotions when I'm travelling… Better make some better devotion habits!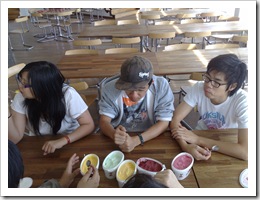 Ice cream buffét yay!
Leon and I left the prep camp a day earlier in order to go to Lorna's wedding! She's now married to Patrick. Congratulations! I gave them a bathrobe each as a wedding present, not sure if they think it's too weird… Well I did give them the receipts too, so they could just exchange them if they really don't want them. Actually I wanted to buy the Guitar Hero: World Tour complete set with drums, two guitars and a mic. But the box was too heavy for me to carry all the way home and/or to the wedding, so I ended up buying something simpler. I bet if they knew, they'd be really disappointed! (Or not.) Ah well. Uploaded some videos from the wedding banquet on Facebook. (You need to log in and be my FB friend in order to watch them.)
Lorna changed dresses several time during the dinner. First she changed it from the wedding dress to this blue one, and then to a red China dress later. Don't remember if she used any more. Are the brides always supposed to do that? I'm glad I'm not a girl. Seems so bothersome. Patrick changed from the black suit he used at the wedding ceremony to a white dress, but that's it. Oh, by the way, it was incredibly hot inside the restaurant! Especially where we sat (furthest in)! I'm glad I used a short-sleeved shirt, but even then I had to go out for fresh air several times during the dinner. The food was good though, and we got food before most other people (except the wedded pair's family, I think).
Dessert was wedding cake, obviously! Not Super Mario themed though. When I get married, I want a Super Mario themed wedding cake! Although I guess it might be hard to find a girl who would agree to that. Hmm. Maybe a gigantic Wiimote cake is a bit less flashy, since at least it's mostly white instead of brightly colored with dangerous food colors? Okay, enough about cakes.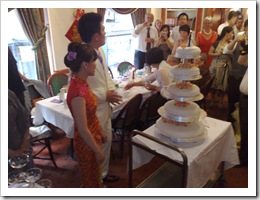 Anyways, best of luck to Lorna and Patrick!