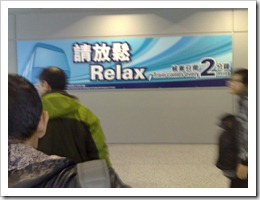 Been in Hong Kong (and now Guangzhou) for almost a week now! Haven't done much shopping yet, just been eating rather a lot and seeing some people. It's good I guess, should try and relax more, rather than stressfully trying to buy lots of stuff.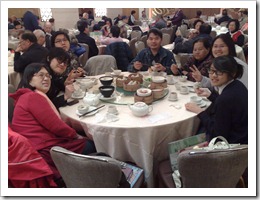 Had a couple of morning (7am) dim sums with grandmother. It's pretty chilly in Hong Kong these days, especially so early in the morning. Getting up so early also makes me rather tired early in the evening. Have almost only been out to buy some usage items like shampoo and bottled water, etc.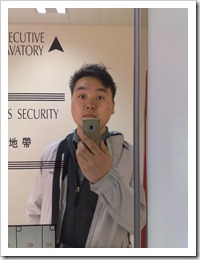 Everyone in my family had a haircut, I think for 45HKD per person or so. The barber went with my suggestion of just cutting my hair short, but tried to make it fancy nonetheless, maybe out of pity for my lack of any sense of style. Don't think I'm gonna bother trying to recreate it once I've washed that away. We also went to church on Sunday, and met with some of Leon's friends from when he was living in Hong Kong for school.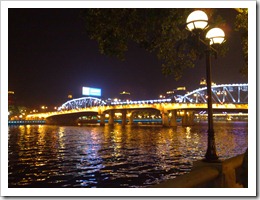 Went to Guangzhou on Monday. Passing the border didn't take as long as we remember from last time! Just like Hong Kong 10 or so years ago there are mostly squat toilets in Guangzhou, even in some finer restaurants. Lots of buildings and roads are being built or renovated because of the Asian games (2010 in Guangdong?) though. There's a lot less English here than in Hong Kong, by the way. Which is to be expected, but should be noted if you plan to go there.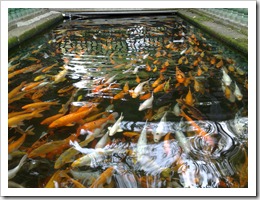 Have mostly gone to meet relatives and friends in Guangzhou, but we also rented a minibus with a driver to drive us around to various places, like this goldfish garden place. Did some shopping too, I finally bought some new shirts (29RMB each) and socks (3 for 10RMB, I heard I could've gotten cheaper), also a 500 pieces Final Fantasy X2 puzzle for 10RMB (undoubtedly unlicensed). Things really are a lot cheaper here, soft drinks at 7-11 are roughly 2-4RMB!
Partly because of that, we've been having huge meals with our relatives and friends (and the driver) both for lunches and dinners. AFAIK most of the meals cost roughly 30-40RMB per person, even though we had some expensive stuff like duck, goose and crabs on some of the meals.
We also went to a karaoke one night. They had this awesome fruits basket! Also they had some anime songs (that we couldn't sing anyhows) and Melodies of Life (which I tried to sing).Now we've gone back to Hong Kong to celebrate Christmas with our relatives. Going to have hotpot! Which should be good, since eating hotpot means eating slowly instead of stuffing ourselves with lots of food quickly. And I've been eating way too much the last few days in Guangzhou (and before that too, I guess)… Eat less! Maybe. Either way, I really need to lose some weight. When I get back to Norway.