Went on a five day cruise with my family in May, with Royal Caribbean's Vision of the Seas. Apparently there was a problem with diearrhea onboard the ship on it's last few trips, and even on our trip there were 75 people or so who got sick, although we were lucky enough not to get sick or see anyone sick. The biggest difference for us was that we on the last few days of the trip weren't allowed to get food from the buffet ourselves. Instead there were a bunch of staff stationed near the food to hand out the food we wanted.
The cruise went to Zeebrugge in Belgium and Amsterdam in the Netherlands. From Zeebrugge we took the train to Brugge (I think) where I took a few photos to make this panorama:

Also bought some cheap Belgian chocolate (factory-made instead of the more expensive hand-made ones). In the Netherlands we went to some Chinese supermarkets and visited our aunt. Other than that, I spent most of the time eating buffets, going to the shows and playing Dominion and other board games with my brothers. This time we only went swimming once, but I actually climbed the rock wall this time! Don't have a photo of me climbing, but have some of Leon. Also had some Ben&Jerry's ice cream (not free). The shows were almost exactly the same as last year, only the singers and dancers were switched out! It was still pretty entertaining to watch I guess. And one of the new guest artists was a juggler, Niels Duinker, that was pretty fun!
The last photo is of the "world parade" thing where they showed off all the countries that the staff came from. I tried using TiltShift Generator to make it look like a photo of miniatures, it looks kind of cool in the thumbnail, but not as good when zoomed in I think.
Last week we painted the outside walls on my parent's house twice (two coats), such a bother… but finally finished! Also put up wallpaper in Vilhelm's room. Luckily I didn't have to join the painting, which Leon and Vilhelm did by themselves, since they don't have school or work during daytime anyways…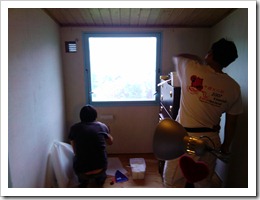 On Saturday last week we had a cake baking day at my parents' house, made some quite delicious cakes! Ate some of them and brought the others to the church the next day. Also watched the Eurovision song contest. The funniest part was actually the Spanish entry, where some random dude jumped up on the stage to join the dancing. And got escorted away by security. Well I guess Madcons song with the flash mob dancers was somewhat interesting too. The winner's song (Germany's song) was sung by a girl with a weird English accent. I'm not saying my accent is much better, but it was kind of strange listening to it. Oh well, congrats either way.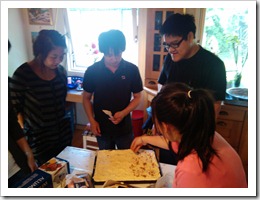 Ice cream cake woohoo!
Yesterday we had the annual church barbeque party. Ate some meat. Saw some swans. Had a nap under the sun.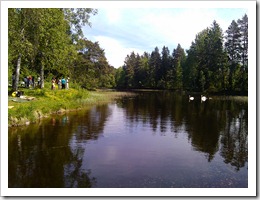 Today we went to MegaZone with the alpha group, it was pretty fun. Although my team lost. I went from 7th rank overall in the first round to 4th overall in the second round though. W00t! Next time maybe I will even run around for more than 5 minutes before getting too tired in my knees. I tested taking some photos with RetroCamera, which turned out pretty cool. But the photos are just too low quality… so I guess I might uninstall it, maybe try FxCamera a bit instead.
Still haven't beat Final Fantasy XIII. There just isn't enough time to play, especially with all the painting last week. Maybe this week… I mainly want to beat it before Metroid: Other M comes out, but since it isn't even announced for Europe yet, I guess I probably will have time. Super Mario Galaxy 2 is coming out soon, but I never got all the stars for the first one so I'm kind of hesitant about getting it. But seeing that it got a score of 98 on MetaCritic really makes me reconsider! Maybe I'll buy it when I'm in Stockholm next weekend. Yesh, going to the Final Fantasy concert June 12th! Looking forward to it.