I've been almost three weeks in Toronto on a short-term mission trip with the SCCC in Oslo youth group. Then one week in summer camp. Unfortunately, my phone broke, so I ended up not being able to take any photos after that… But I bought an iPad in Toronto, which works pretty well as a replacement for my Android phone, even though all the limitations are a little bit annoying (can't easily transfer files to and from the iPad, but have to use the iTunes application to transfer stuff). Using it mostly to surf on internet (Facebook), chat and play games for now.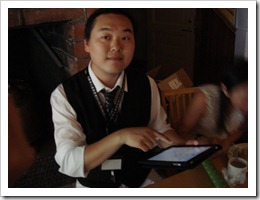 iPad and me.
I went back to using my old Nokia N95 as phone and camera, ordered a new battery for it since the current one barely lasts a full day even when I'm not using it for anything. But for internet stuff I'll be using the iPad from now on I guess.
Anyways, Toronto and camp was pretty fun. Did I get closer to God though? I guess I can't honestly say that I feel like anything has changed… pastor Enoch's speeches at the camp were pretty interesting and funny though. I have notes! And I especially remember one line he said about prayer, that "God doesn't answer our prayers because of our great faith, he answers them despite of our little faith" (roughly quoted from memory). I'll just have to keep praying for me to change.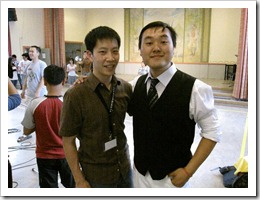 Pastor Enoch and me.
Other than that, I did feel like I managed to talk at least a little bit with people (both in Toronto and at camp). I also got to know a few more people, even though I hardly ever try anymore. I usually don't even really feel like talking to people in my group at summer camp much… Now in the young adult's camp there are more new people than back when I was still in youth or working as a group leader in youth camp. But I just don't really feel any urge to talk to the new ones… Still I got to know John Asmussen a bit more, he was at last year's camp too. And in Toronto I talked a bit more with Helen Su this year, last time she only came to one of the gatherings so we didn't get a chance to talk with her more.
Some photos from Toronto:
Some photos from summer camp:
The drama team
Who is this girl?
And why am I sneering at the camera?
OrangeEdward and the Ho brothers.
Anyways, I'm back at work now. Even though it's pretty quiet nowadays because most people are on vacation, I still would like to have more vacation… Have promised to try and visit people too, I guess I'll probably take some weekends and go to various cities in Sweden and maybe to Bergen. Will see. Have stuff to do in Oslo too, we're supposed to paint a room at church. By next week. Ack.