Went to Gothenburg last weekend with Enoch, Tore and Minh Thu. Had a great time with our Gothenburgish friends! We took a bus there on Friday and ate at Tintin café, before heading to the apartment that we were borrowing from a friend. On Saturday we went to Universeum with Maggie to look at fishes, monkeys and play educational science games. I actually do enjoy looking at animals, even though most of the animals seemed rather bored and was just lying completely still. A few notable exceptions were the stingray which so eagerly swam up to the edge of its water tank that it splashed water on those around it, the snake which seemed to hypnotically follow Enoch and Minh Thu's hand through the glass, and the monkeys who ran around in the jungle part of Universeum.
After visiting the souvenir shop at Universeum, we met up with Jenny and had curry at Masala Kitchen. I ordered a Rogan Josh (lamb curry) with a cheese nan and mango lassi. It was quite delicious! Though the cheese nan bread seemed to be a normal nan bread with cheese drizzled and melted on top of it. At the previous Indian restaurant I went to, they had actually baked the cheese into the nan, which seemed a bit more "professional". But that asides, it still tasted quite good, kind of like a pizza without any tomato sauce or other filling. The mango lassi had a good taste, but it was almost as thick as normal yoghurt, so it wasn't really quenching. The curry was good in any case!
Then we went for some shopping, before heading home to Maggie's place for hotpot. Viktor also made bubble tea, it was quite delicious! Apparently except for the batch where he accidentally poured in salt instead of sugar. Though I never tried that one before they poured it out. Ailinh brought bacon for the hotpot, it was actually not bad at all! It is possible that boiling the bacon instead of frying it makes some of the saltiness go away, so it won't taste too rich? It didn't taste too salty, like I thought it might.
On Sunday we went to the youth meeting at church. We had to make up movements for a bible passage, unfortunately I forgot to take a photo or video of it. Then we talked a bit about those passages. After church we went for conveyor belt sushi buffet at Haiku Sushi Lounge. It was good, but because we didn't try ordering any sushi besides the ones they made for the conveyor belt, I have a feeling I ate the same few types of sushi all the time! Next time I hope we get to actually sit next to the conveyor belt and that we can try out more different types of sushi.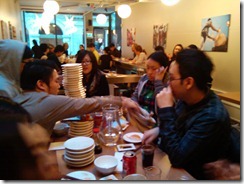 Oh, we also played some board and card games at night, mainly 7 Wonders and Dixit 2, but Jocke also showed us some new games: Great Wall of China and Condottiere. All the games were pretty fun, and I actually won a few of the game rounds instead of losing every time! Not that I usually lose all the time. Noooope.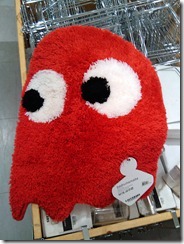 Pacman ghost bathroom math stares at you!