In July and first half of August I've been busy with training week, summer camp, and hanging out with people after summer camp, so I have barely even had time to play on my new computer.
Training week was all right, I decided that I didn't want to try small group leading or teaching anymore, so I kinda tried listening a bit to the worship teaching. But since I don't actually do any worship stuff I usually just had lots of free time. During this week I also managed to get 9 hour sleep every day, making me less sleepy during the day. So I might need to get 9 hours of sleep every day! It's really hard to get that much sleep on normal days though…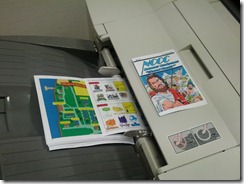 The biggest job I got during training week was stapling the booklets.
During summer camp I no longer was able to sleep 9 hours, so I got more and more tired throughout the week. It didn't help that we had wait for the car to go to another location for sleeping. Though I usually didn't go to bed right away after getting back either, since I ended up trying to be a little social with the other guys staying at that location.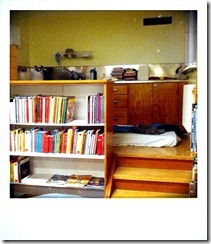 My sleeping corner was cozy at least!
The "topic" for the young adults this year was the Sermon on the Mount. Pastor Enoch went through that bible passage throughout the week, explaining the topics in each part and how to apply it to our lives. It was interesting and he did give some new ideas that I hadn't thought of before when reading those passages.
After camp, besides going back to work, I hung out with pastor Ivy and Glen a few times, with another pastor family from Hong Kong for a few days, then went to Malmö one weekend for a surprise party for Heavy, Peki, Aloysious and Monica, then hung out with Macklin from Boston (who had come to visit Oslo for a few weeks), and also Anna and MJ came to visit for a weekend. We also had one (or two) dinner parties the last weekend before Macklin left. So it's been quite eventful! I have barely had enough time to do any house work…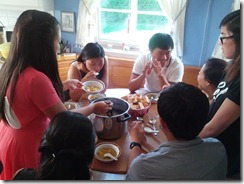 I was invited to a few other events too, but I had to skip those since I really needed the break. This week I've at least managed to do some tidying in the house. Finally got my new computer connected to the TV in the living room, since the laptop I used there isn't powerful enough to play full-HD movies. Got my chair replaced (for free!) by IKEA, so now it should not randomly sink while I'm sitting. Still have a super long todo-list though… Still, spent most of today playing Assassin's Creed 2 since I felt like I needed to relax. I guess I'll see if I will try to do more stuff on the todo-list tomorrow or if I want to spend more of tomorrow on relaxing and playing games.