I have now been using Windows 8 on my main computer at home for a few days. It seems to work quite smoothly, and when not taking the new Start screen into account, is not really that different from Windows 7.
I've read that many people hate the Start screen and I also know there are lots of Start menu replacement programs that can be used to simulate the old Start menu. Personally I don't really mind the new Start screen though.
The biggest reason is that since Windows XP, I have almost completely stopped using the Start menu for starting programs, instead using Launchy, a launcher app where you type name of the program you want to start, and it'll start it. (Usually I only need to type the first 2-3 letters of the name before it finds the correct one.)
In Vista and Windows 7 I used the built-in search in the Start menu, and in Windows 8 the Start screen still has the same search function: If you start typing while on the Start screen, it'll show a list of programs matching the letters you typed.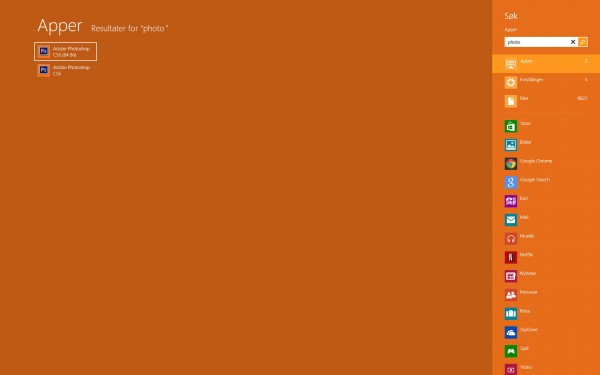 I also like the way you can have live tiles on the Start screen showing various info without having to start them up. So I can always check the weather just by pressing the Windows key. And the People tile shows the latests updates from Facebook, while the Calendar tile shows the events of the day. So just like the old desktop gadgets/widgets that I have used a bit on and off over the years. Hopefully there'll be more useful live tiles in Microsoft's app store as time goes.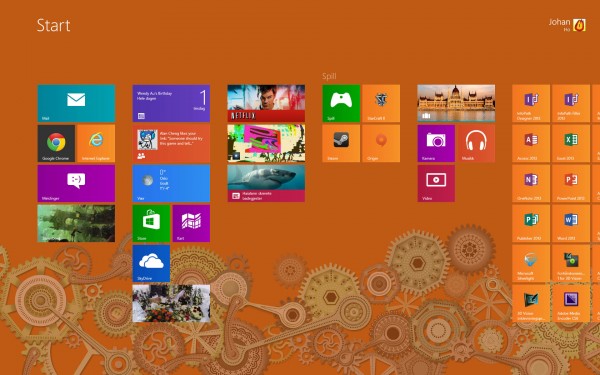 Still, it kinda irks me that for new Win8 apps, they have to take over one whole monitor. It helps that I'm using two monitors at home, but it's still distracting whenever I decide to start one of Windows 8's built-in apps, and it covers everything on that monitor. It is possible to dock one app on the side and keep using desktop mode like shown in my screenshot, but once you open any more it'll take over that monitor. I guess the easiest solution for that is to avoid using Windows 8 apps, and use programs that runs in regular windowed mode instead.
Some new features that I found amusing so far in Windows 8:
You can now show a taskbar on each of your monitors

You can set the taskbars to show only the programs/windows that are running on that monitor
In Windows 7 you can set a group of wallpapers for Windows to switch between automatically. In Windows 8 you can even make it use different wallpapers from that group on each monitor (like in my screenshot).
Picture unlocking is a neat function. In case you just don't feel like typing stuff. You can choose a picture and then make three mouse actions on it to use as a password for unlocking your computer. For example clicking on one spot, then click and drag along another spot, and then click and make a rotation in a third spot.